2021 Rileys Solihull - GO Customs 9 Ball Series Grand Finals
Rileys American Pool and Snooker
Hobs Moat Road
Solihull
West Midlands
B92 8JN
www.solihull9ball.com
-
youtube
-
facebook
-
twitch
-
instagram
-
cuescore
Saturday 11 December 2021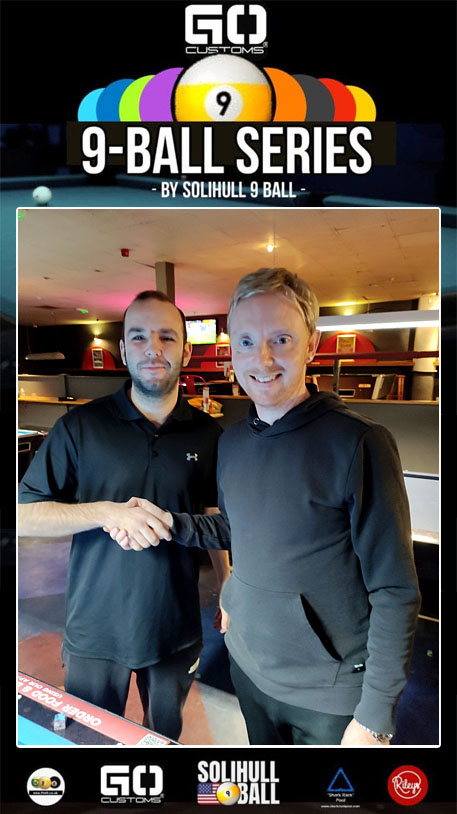 GO Customs 9 Ball Series - Grand Finals
Report by: Can Ibrahim
Christmas is coming, the Solihull team's getting fat, this can only mean one thing… the Grand Finals are BACK!
Yes it's that time of the year again and 27 runners assembled to see who would be declared the overall Go-Customs 9-Ball Series champion.
The initial first round games kicked off and the straight knock-out format of the finals day meant there was no time for any settling in.
Stewart Colclough, Apostolis Harmas, Gary Bullocke, Shane Conroy and Spencer Oliver were in strong form right out of the gate - all recording 8-0 whitewashes and helping to quickly cut the field in half.

Share this article on FaceBook
"Read More..." for the details.
Go-Customs 9 Ball Pool Series Grand Final
Into the second round, Spencer Oliver pushed Stewart Colclough hard, but Stewart - always a favourite going into the tournament - held firm with an 8-5 win. Elsewhere there was a local battle heating up on table twenty, with Ryan Coton and Apostolis Harmas squaring up and matching each other all the way. There was nothing to separate them and it went hill-hill, with Coton junior squeezing through in the end.
Meanwhile the Garlands were no doubt being removed from the Weaver's Christmas card list, with younger Weaver Kurt falling to the elder Garland, Daryl. And Steve Weaver ran Luke Garland close, but Luke eventually got over the line. Both matches finished 8-5.
On the other tables, Andy Lacey gave Benji Buckley a run for his money but was dispatched with 8-6, and Kev Simpson was in good form with a solid 8-3 win over Dwayne Yates. Shane Conroy was also looking focused, taking down an in-form Ryan Wisset 8-3, who himself had just come off the back of a good win against Luke Hart in the first round.
Into the quarter finals, and fate sadly didn't serve us up a father and son Garland battle. What it did serve up was an equally tough game for Daryl against an imperious Benji Buckley, who barely gave up a shot and breezed through 9-1. Luke though had a strong performance against Kev Simpson, 9-4. Ryan Coton had another local battle draw, but managed to overcome an in-form Shane Conroy 9-6.
Stewart Colclough didn't give up many chances either, with Shaun Johnson only managing to take 4 racks off him, ending what had been a fine day's work. Into the semis and Ryan put up a valiant effort against Stewart Colclough too, but Stewart proved much too strong, securing a space in the final 9-2. And meanwhile Benji Buckley and Luke Garland was shaping up to be a clash of the titans. Benji didn't have it all his own way with Luke running him close, but Benji squeezed through 9-7.
The climax of the day finished fittingly, with two of the outstanding players of the whole series in Stewart Colclough and Benji Buckley meeting. Benji caught a bit of a gear in the final and the score finished quite comfortably - 9-3. Commiserations to Stewart, and congratulations to Benji who is quite surely a worthy Go-Customs champion! He takes home the cash prize, as well as the prestige of being the number one ranked player of the year.
There will no doubt be many more battles between these two, and indeed many of today's competitors next year. The dates have already been announced, so a big thanks to everyone who has signed up so far, and we look forward to event 1 excitedly!
In the meantime, have a merry Christmas and a happy new year!
The Go-Customs Solihull 9-ball team.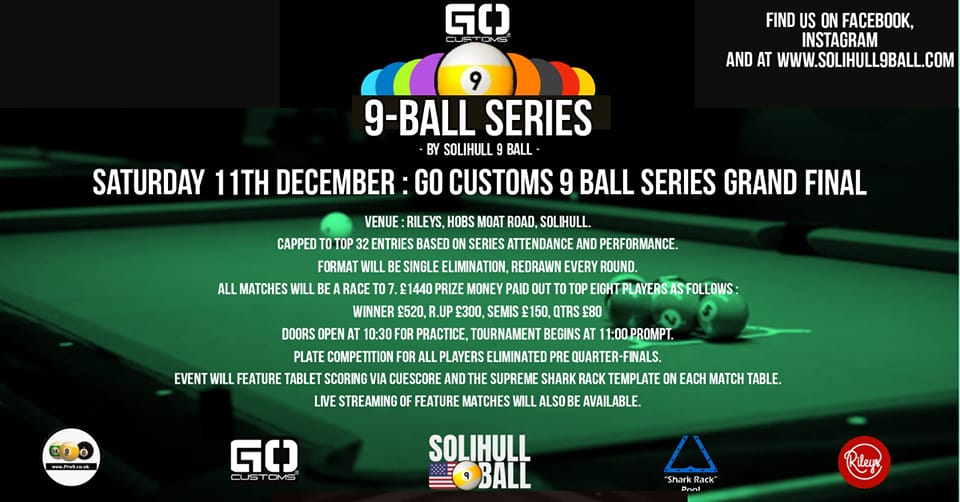 Click the image to view the larger poster - use "back" to return here.
Enjoy the article? Now try this...



View Pro9's front page!

Chat about this article in our forums.

Visit The Pro Shop to see new cues and gadgets.

Check out the Pro9.co.uk calendar for details of more events.