2021 Rileys Solihull - GO Customs 9 Ball Event 2
Rileys American Pool and Snooker
Hobs Moat Road
Solihull
West Midlands
B92 8JN
www.solihull9ball.com
-
youtube
-
facebook
-
twitch
-
instagram
Saturday 28 August 2021
Luke Garland and Spencer Oliver
Luke Garland eases to 7-1 victory at Solihull 9 Ball tournament!
Report by: Matt Hawthorn
Saturday 28th August saw Rileys Solihull play host to the second installment of the GO Customs 9 Ball Series. The race-to-seven, double elimination format saw 32 cueists looking to claim the £400 first prize. The draw was completed earlier in the week, meaning that by 10:45 we were underway.
Luke Garland, Cregg Bear, Chris Parker, Ryan Coton, Kev Simpson, Adam Lewis, Adam Clarke and Gary Bullocke all progressed to the last sixteen undefeated. This left eight spaces up for grabs as those left in the losers qualifying round looked to keep their hopes of tournament success alive. Benji Buckley overcame a 2-0 deficit to eliminate newcomer Dwayne Yates (7-4), while Andy Lacey got the better of Dane Jones (7-5). Shaun Johnson couldn't stop Stewart Colclough, going down 7-3, but Spencer Oliver took down Luke Hart (7-5). The battle of the Hungarians saw Laszlo Zsom defeat Zoltan Kojsza (7-4) and there were contrasting fortunes for the Weavers, as Kurt beat Andy Carter (7-2) but Steve fell at the expense of David Hine (7-1). Daryl Garland completed the final sixteen lineup via a bye.
Now it was a straight knockout and, with the favourites not quite hitting top gear to this point, this really was anyone's event to win. Luke Garland eventually put distance between himself and Stewart Colclough as he advanced (7-4). Kev Simpson managed to halt Laszlo Zsom's fantastic comeback to sneak through (7-5) while Chris Parker won the final two racks to pip Daryl Garland (7-6). Kurt Weaver advanced past Ryan Coton (7-2) while Andy Lacey ended Adam Clarke's event, conceding just one rack in the process. Cregg Bear overcame David Hine to progress (7-3) and Spencer Oliver scored an impressive win over Gary Bullocke (7-4). Adam Lewis would complete the last eight by eliminating Benji Buckley (7-4).

Share this article on FaceBook
"Read More..." for the details.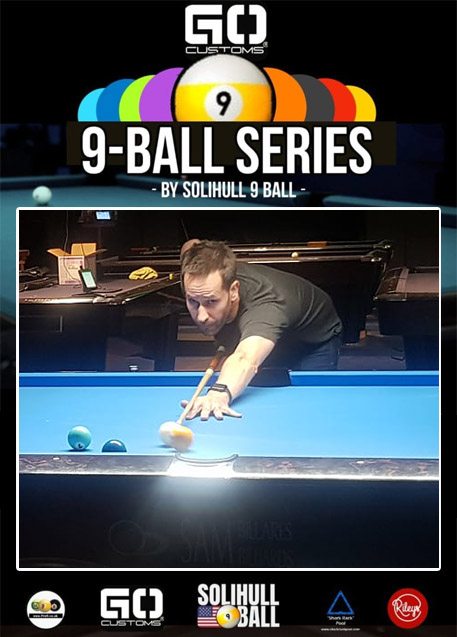 Andy Lacey
The quarter-finals saw Kurt Weaver and Kev Simpson go the distance, with Weaver taking the decider to advance. Luke Garland had yet to taste defeat to this point, and neither had opponent Chris Parker. Garland would hold firm, resigning Parker to defeat (7-3) and setting up a semi-final clash with Weaver. In the lower half of the draw Adam Lewis faced GB9 challenge 2 winner Andy Lacey. Despite playing well throughout the day, Lacey was no match for Lewis on this occasion (7-0). Spencer Oliver would guarantee a rematch with Lewis if he could get by his friend Cregg Bear. This was the last quarter-final to finish and Oliver was peaking at the right time. He found himself in the final four following a 7-3 win.
In the first of our semi-finals, Kurt Weaver and Luke Garland couldn't be separated for much of the match Garland maintained his composure in the twelfth rack, bagging himself a spot in the final following a hard fought victory. On the streamed table Adam Lewis was looking for a repeat of his earlier win over Spencer Oliver. It was looking good for Lewis as he raced out to a 6-4 lead. Oliver produced an audacious combination bank, sinking the 9 to make it 6-5. Another combination, this one filed under 'fluke', put Oliver on the hill. Adam Lewis had the break in the decider and looked to be running out for the victory. A crucial missed 6 ball gave Oliver an opportunity he wasn't expecting. Oliver kept his cool, clearing up to make his first Solihull 9 Ball final.
With Luke Garland and Spencer Oliver as finalists we were guaranteed another new tournament winner. Luke got off to a great start and never took his foot off the gas, easing to a 7-1 win and securing his maiden Solihull 9 Ball tournament victory.
Congratulations to Luke Garland for his performance on the day. He has been knocking on the door for a while, and I've no doubt that there's more to come. An honourable mention must go to Spencer Oliver for his fantastic run to the final, earning the praise of his opponents along the way. Adam Lewis is now a permanent fixture at the business end of our events and I'm sure it won't be too long before he and Kurt Weaver are contesting finals.
Thank you to all that attended, we hope that you enjoyed your day. Our next event takes place on Saturday 23rd October and is capped at 40 entrants. Please refer to our website or social media for further details.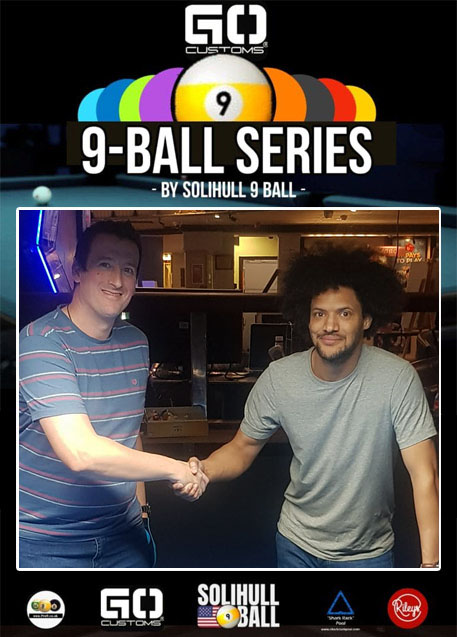 Adam Lewis and Spencer Oliver
Thanks to Rileys Solihull for hosting and its continued support of our events. We would also like to acknowledge our sponsors GO Customs, Shark Rack, Lynch's Original, Onboard Sportswear and Pro9.
We would like to wish our players well for the upcoming GB9 event.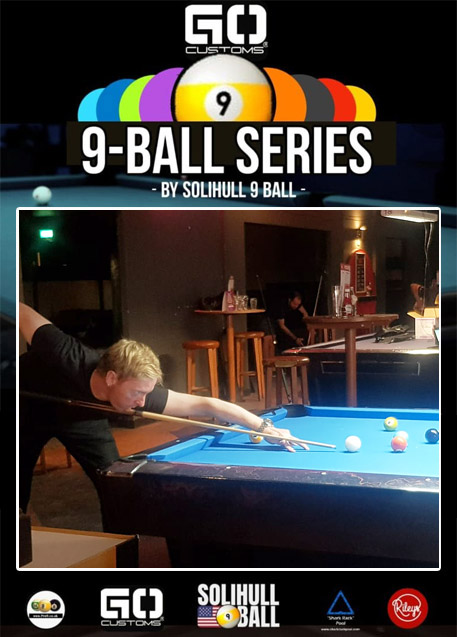 Stewart Colclough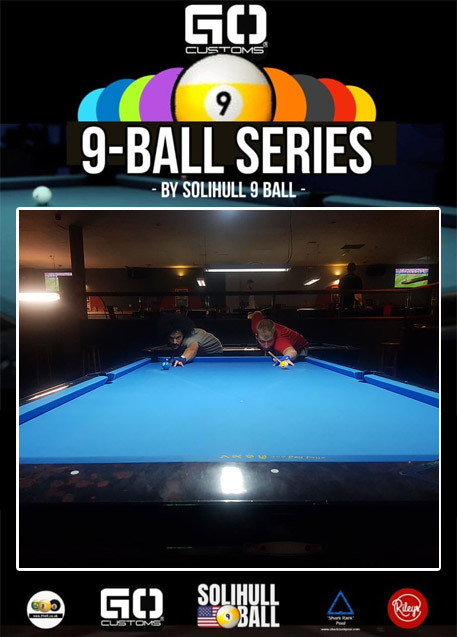 Spencer Oliver and Luke Garland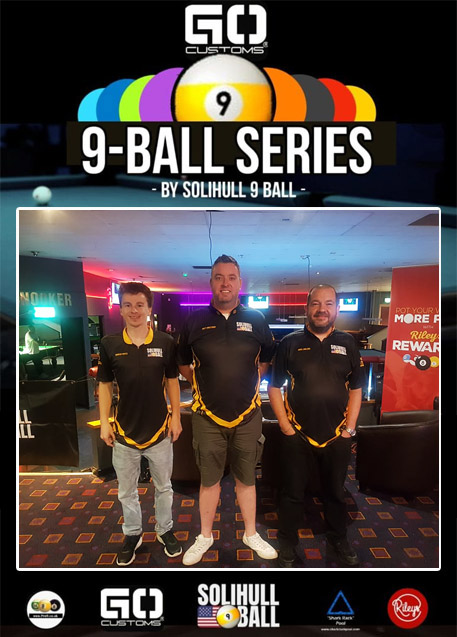 Andrew Carter, Matt Hawthorn, and Daryl Garland
Click the image to view the larger poster - use "back" to return here.
Enjoy the article? Now try this...



View Pro9's front page!

Chat about this article in our forums.

Visit The Pro Shop to see new cues and gadgets.

Check out the Pro9.co.uk calendar for details of more events.