Joshua Filler wins the Dynamic Billard St. Johann i.P. Open 2021
In an epic battle, the "Killer-Filler" Joshua Filler (GER) took down Mario He (AUT) with 9:8.
The final match was contested between Mario He and Joshua Filler. It was broadcast LIVE on Austrian TV ORF+. The local Organizer, Theo Riedlecker has together with the Austrian Federation ÖPBV and its Press Officer, Andreas Kronlachner, once more done a great job in organising LIVE TV for the tournament's mens final.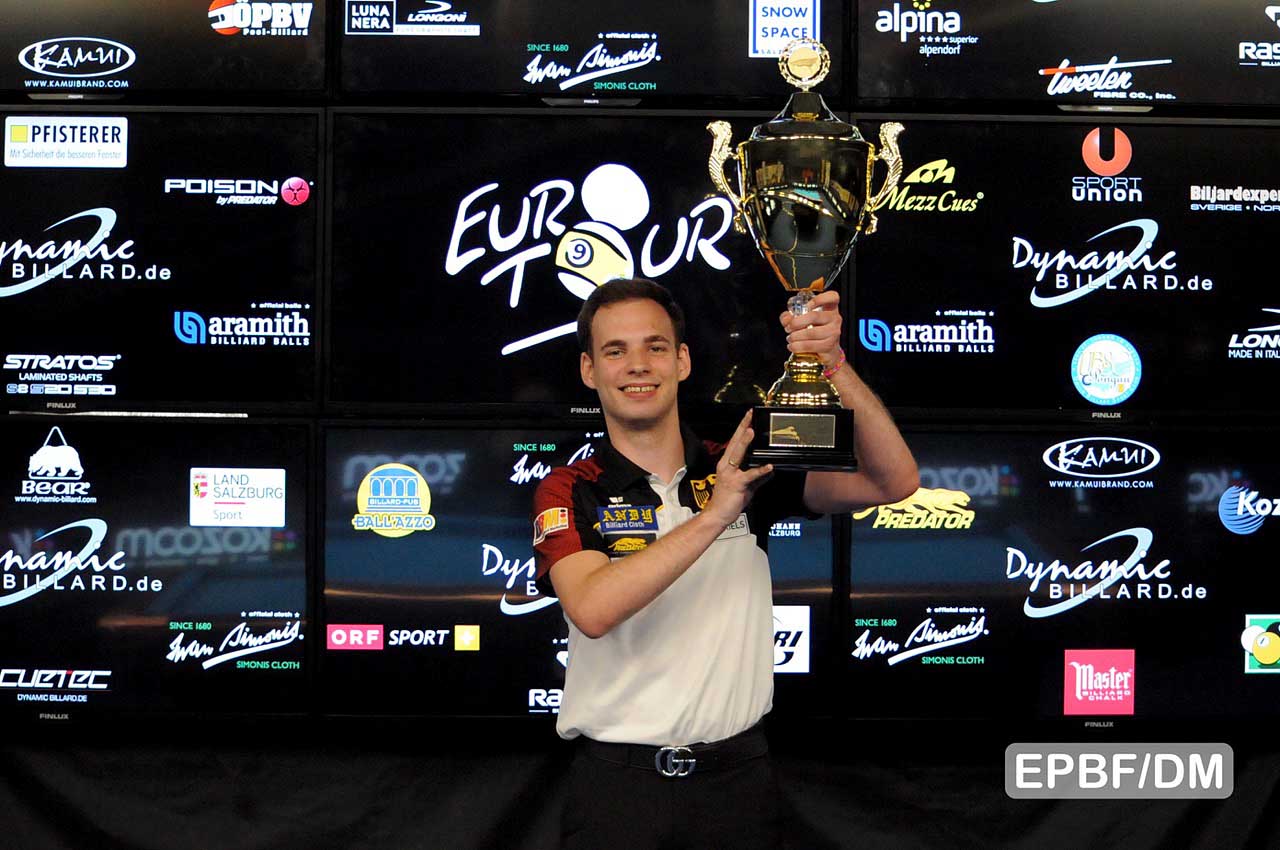 Joshua Filler (GER)
Click the image to view the larger image - use "back" to return here.
Mario He drew first blood in the final match. He broke and ran the table with a dreamlike certainty to get a 1:0 lead over Filler. Filler started his game after that and had to throw in a few safety shots, which he managed perfectly, so that he could equalise at 1:1. After winning his next break rack, Mario He also managed to snatch a rack from Filler in order to gain a 3:1 advantage. He had the big chance to gain a three point lead over Filler, but the German didn't like that idea too much. Filler stopped He's victory march and took another rack to make the score 2:3. Again, Mario He managed to win a few racks in a row and pull away with 6:2. But Filler stuck to him like chewing gum and could not be shaken off. After twelve racks, the scoreline was 7:5 for Mario He.

Share this article on FaceBook
"Read More..." for the details.
There were clouds on the horizon for Filler. Mario He was only two racks away from victory with Filler's break shot coming up in rack thirteen. What happened next was inevitable. Filler broke dry again with no balls dropping in any pocket, leaving an open table for Mario He. Would Filler be able to once again weather the storm? Not if Mario He took his chances. The Austrian cleared the table and ran all balls until he got to the 7-ball. There he fell out of position and missed the next shot. Filler cloud not believe him being given a second life in this match. Instead of trailing 5:8 he was now on Mario He's neck, trailing only 6:7. In rack fourteen, Mario He once again played a bad safety shot and allowed Filler to clear the table to tie the match at 7:7. The Filler went for his time-out and collected all the energy he could for the last stage of the final match. The heat was on Mario He now. He had Filler almost with one foot in the grave and now everything was out in the open. The Austrian picked himself up and played at top level to get to the hill first. Now the heat was again on for Filler. He knew that a single mistake would be the end of the match for him. Filler performed ice-cold and showed no nerves, running all balls to get to blows in St. Johann with a hill-hill match at 8:8. The next rack would decide the winner. Mario He had the advantage to break the rack. He had the 4-ball down and the layout looked very promising for him. But to the shock of the audience, Mario He missed the 1-ball. Filler played a safety shot and Mario He committed a foul shot. That was it for this match! Joshua Filler ran the rack and took the title, relegating Mario He to the seat of the runner-up in this event.
"After having lost the first match in this tournament, I would have never expected to make it to the final match", stated Mario He after the match. "I only won the second Euro-Tour in my career", mentioned Joshua Filler, "that clearly indicates how difficult it is to win a Euro-Tour event". "I would like to dedicate this victory to my former sponsor and mentor Andreas Sommer who unfortunately passed away four years ago. This Euro-Tour event in St. Johann was the first one for me ever and if he would see me now winning it, I know he would be very proud of me", mentioned Filler.
During the event, over 850 antigen and PCR tests have been carried out for players and staff. Not one positive result has been recorded.
Dynamic Billard St. Johann im Pongau Open 2021
Top Eight Players
1. Joshua Filler GER
2. Mario He AUT
3. David Alcaide ESP
Francisco Sanchez-Ruiz ESP
5. Jose Alberto Delgado ESP
Alexander Kazakis GRE
Wojciech Szewczyk POL
Wiktor Zielinski POL
That concludes the coverage of the Dynamic Billard St. Johann i.P. Open 2021. For further information please visit our website www.epbf.com or contact us press@epbf.com.
---
Dynamic Billard St. Johann i.P. Open 2021 down to last 16
An exciting and eventful day at the Dynamic Billiards St. Johann i.P. Open 2021 has come to an end. Between 09:00 in the morning, when the first round started, and 23:00 in the evening, when the last round ended, there was a lot of action, drama and excitement.

David Alcaide (ESP)
Click the image to view the larger image - use "back" to return here.
With wins over Radoslaw Babica (POL) 9:4 and outsider Christos Papgeorgiu (GRE) 9:4 the multiple European Champion from Spain David Alcaide played himself into the round of the last 16 men. He is in excellent company there.

Tomasz Kaplan (POL)
Click the image to view the larger image - use "back" to return here.
Tomasz Kaplan (POL), member of the strong Polish team, will be there as well as his team mates Mateusz Sniegocki, Radoslaw Babica, Wojciech Szewczyk, Konrad Juszczyszyn and Wiktor Zielinski. 6 out of 16 players of the last 16 participants thus come from Poland and underline their currently really strong performance. It is also remarkable that the only two remaining Austrian representatives, Mario He and Albin Ouschan, have to play each other in the next round.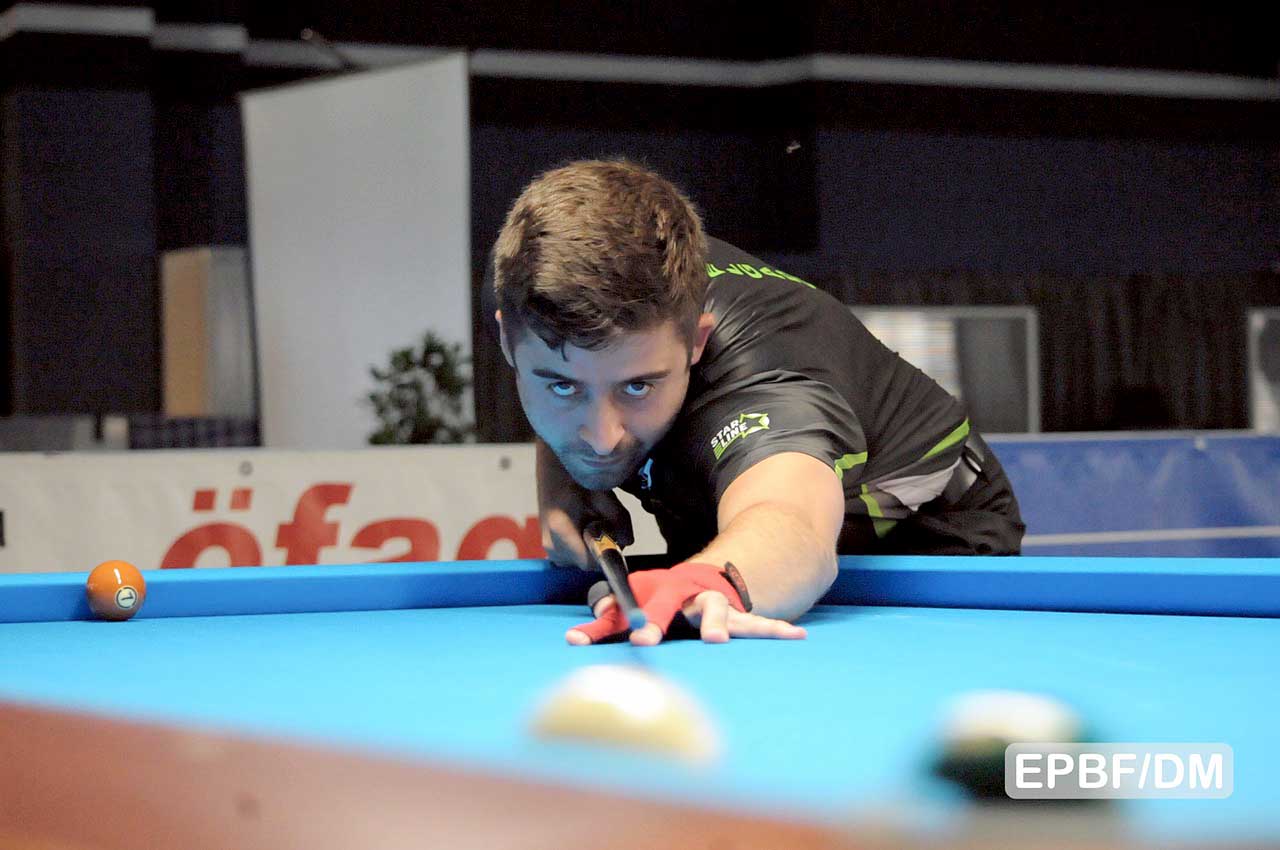 Jose Alberto Delgardo (ESP)
Click the image to view the larger image - use "back" to return here.
Also strongly represented in the last 16 are the Spaniards. With Francisco-Sanchez Ruiz, David Alcaide and Jose Alberto Delgado, the Iberians also have very good chances to advance far in the tournament. The men's final will take place tomorrow evening at 20:10 local time. The semi-finals will be played at 16:30 and 18:00.
Last 16 Men
Joshua Filler GER v Sanjin Pehlivanovic BIH
Mateusz Sniegocki POL v Alexander Kazakis GRE
Francisco Sanchez-Ruiz ESP v Tomasz Kaplan POL
Radoslaw Babica POL v Wojciech Szewczyk POL
Ruslan Chinakhov RUS v David Alcaide ESP
Konrad Juszczyszyn POL v Wiktor Zielinski POL
Jose Alberto Delgado ESP v Nikos Ekonomopoulos GRE
Albin Ouschan AUT v Mario He AUT
For more information visit https://www.epbf.com/tournaments/eurotour/
---
"Game On" in Austria
The first matches of the Dynamic Billard Euro-Tour have started after an absence of almost 16 months. The players were eager to finally measure their skills against each other again.
At first glance, the tournament started like many others in previous years. Only if you looked closely, you could notice a few small but subtle changes that became necessary due to the current pandemic situation. For example, after each match, the balls were collected and replaced by freshly disinfected ball sets. The hygiene concept also included that each player could only take one coach or relative with him into the venue. The general number of spectators was limited to 50. At the tables themselves, the players did not have to wear masks, but as soon as they took a timeout or moved inside the hall to or from their table, the mask had to be worn. In this way, the organisers helped to ensure that everyone was as safe as possible.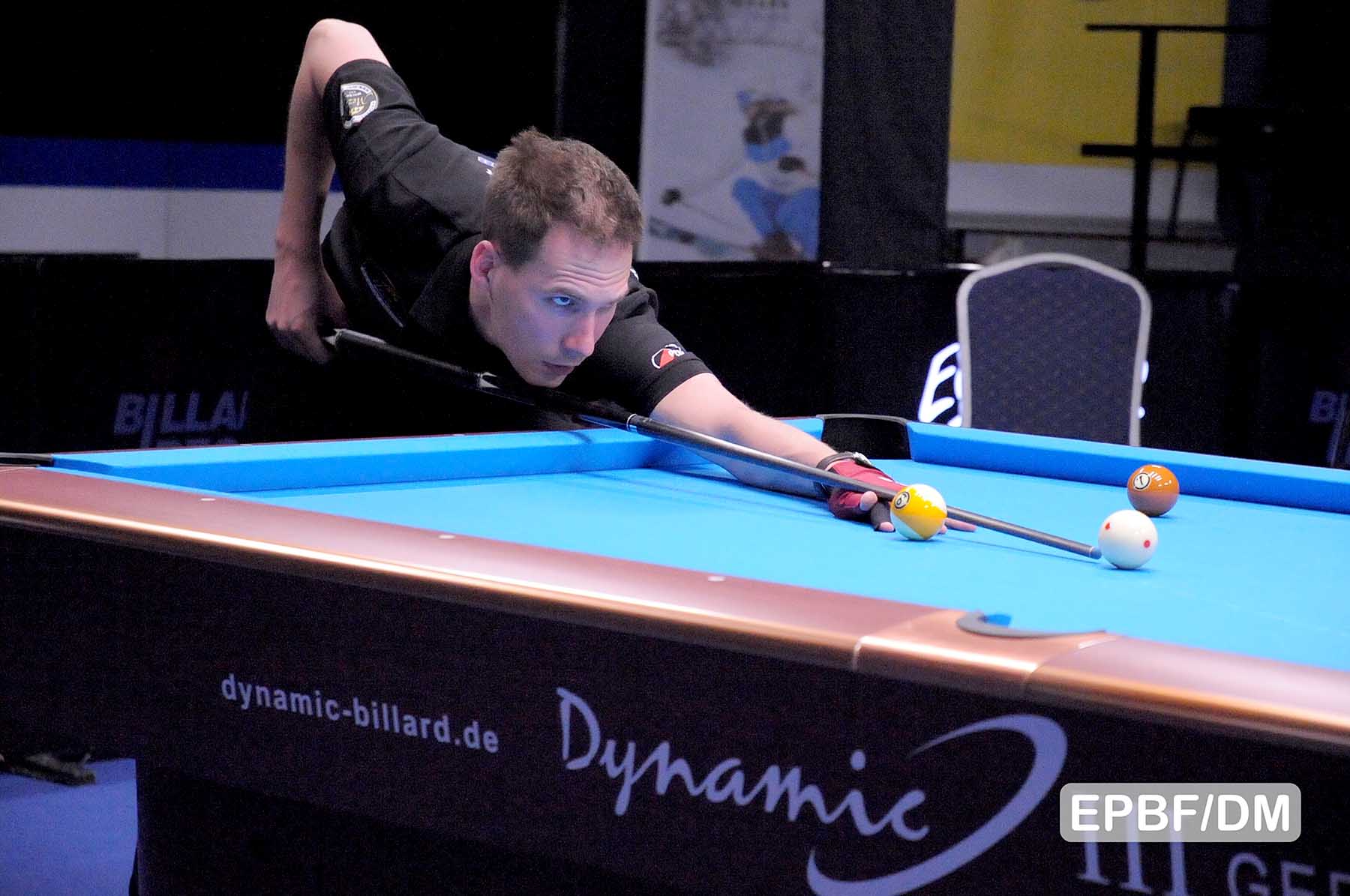 Wojciech Szewczyk (POL)
Click the image to view the larger image - use "back" to return here.
But let's get to the matches.
It is always difficult to talk about surprises in the first round. Many of the participants are players who either come from the region or cannot necessarily be counted among the top. Therefore, the focus is directly on the matches of the first winners' round. One of the first exciting encounters was the match between Wojciech Szewczyk (POL) and Mark Magi (EST). Both players have been active on the Euro Tour for several years and come from the youth work of the EPBF. At the beginning of the match it was also an exciting exchange of blows. However, Szewczyk found his rhythm faster and played better safeties than Magi. Thus he managed to gain a small lead which he did not give away until the end of the match. 9:5 was the final score in favour of the Pole.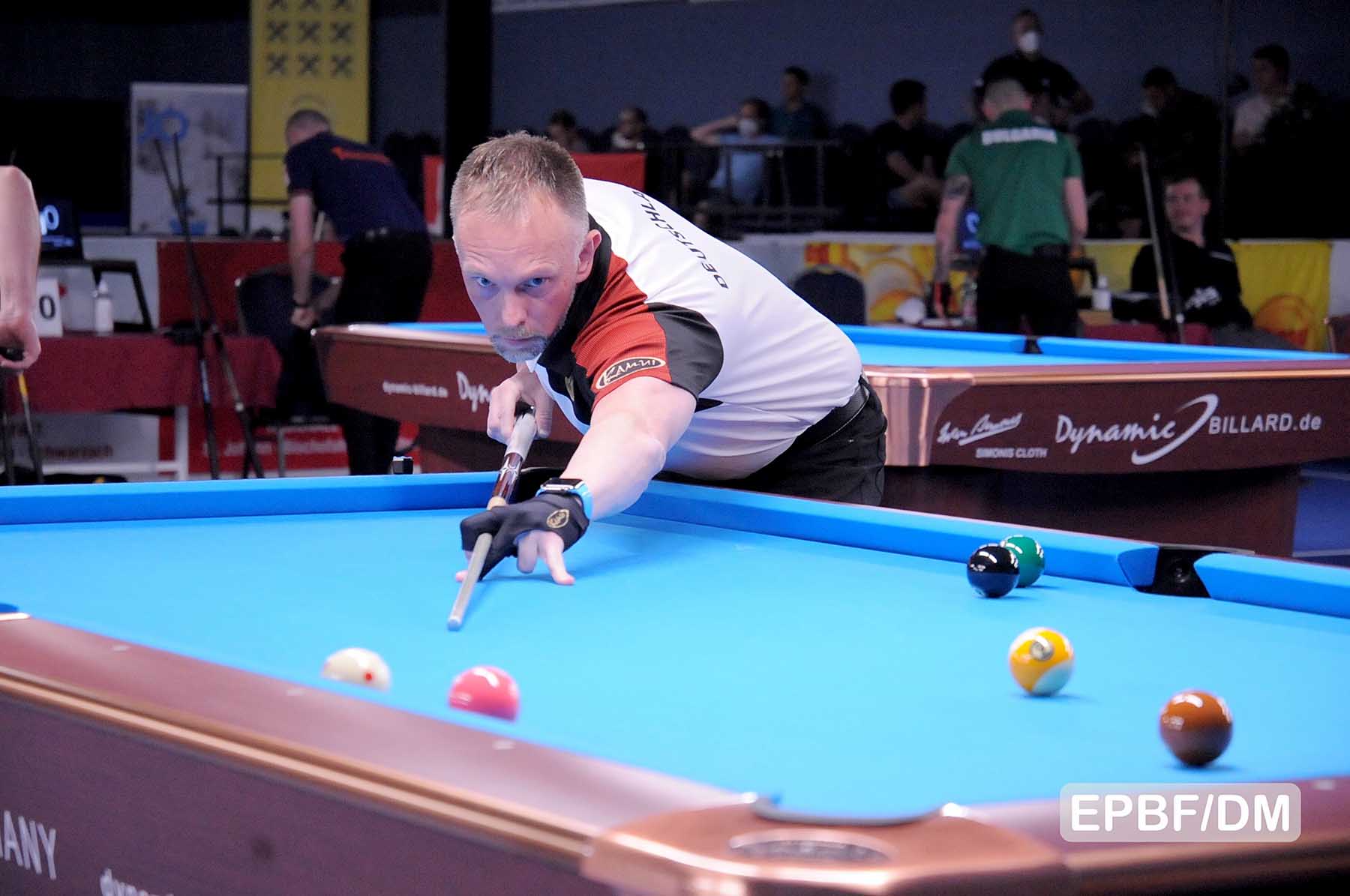 Thorsten Hohmann (GER)
Click the image to view the larger image - use "back" to return here.
Former World Champion Thorsten Hohmann (GER) had to face his compatriot Luca Menn. Hohmann was considered the heavy favourite in this match. But as always, the young guns should not be underestimated.This was also the case in this match. Menn gave Hohmann a run for his money and turned the match into an open exchange of blows, which culminated at 8:8. Here, however, Menn found his master when Hohmann played out all his routine and showed no nerves. With a very close 9:8, Hohmann defeated Menn and moved on to the next winners' round, while Menn will have to seek his fortune in the losers' round after a hard struggle.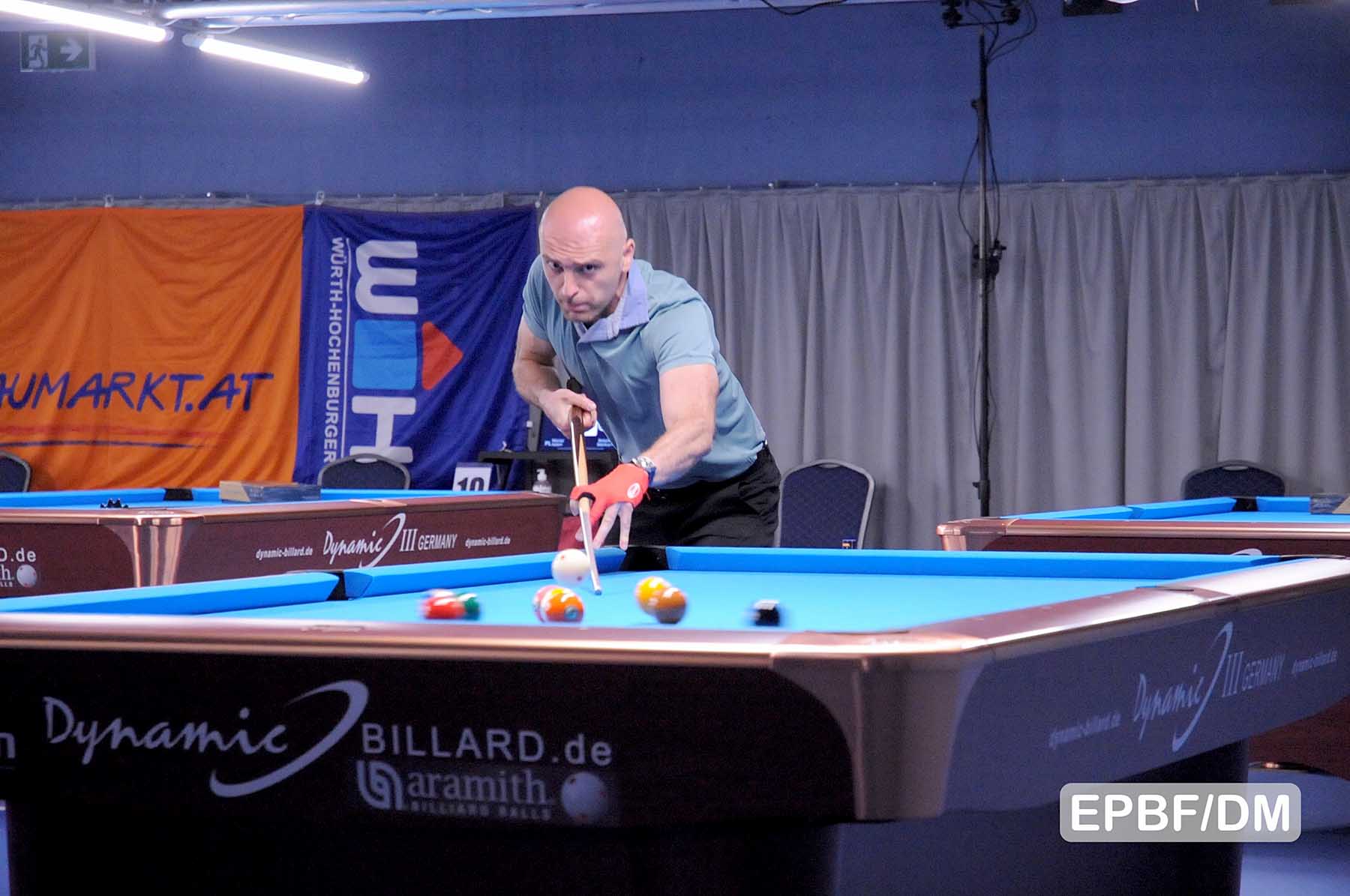 Valery Kuloyants (GER)
Click the image to view the larger image - use "back" to return here.
Another all-German match involving a former World Champion took place on table 5 between Ralf Souquet and Valery Kuloyants. Souquet, 9-Ball World Champion 1996, had problems to find his game. His opponent was certainly considered an outsider, even though Kuloyants has been a well known name in the German pool scene for many years.
Souquet was not going to have an easy game at all and Kuloyants dominated the match from the beginning.
He gained a 3-point lead, which he maintained until 8:5. He was always one step ahead of Souquet, but the "Kaiser" did not dream of surrendering so easily to his fate. Knowing him, Souquet fought to the last drop of blood.He was always one step ahead of Souquet, but the " Kaiser " did not dream of surrendering so easily to his fate. Knowing him as he does, Souquet fought to the last drop of blood.It came as it had to come: with sharp claws Souquet kept himself in the match and forced the decision at 8:8. Kuloyants had the break and pocketed a ball, but afterwards had no position on the 1 ball. It was time for a good safety. He opted for a chance, which Souquet gave back to him.
Then the drama occurred for Kuloyants: he tried to play a safety shot and scratched with the cue ball into the side pocket. With ball-in-hand Souquet cleared the rack and finally won the game 9:8 after a fierce fight.
Tomorrow's matches will begin at 09:00 CET with action from the loser's round. All matches can be viewed LIVE with a premium pass at www.kozoom.com.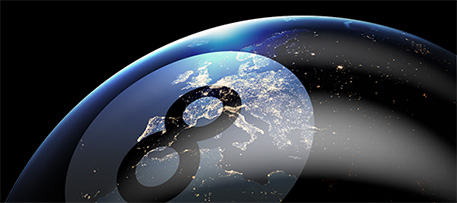 Enjoy the article? Now try this...



View Pro9's front page!

Chat about this article in our forums.

Visit The Pro Shop to see new cues and gadgets.

Check out the Pro9.co.uk calendar for details of more events.