Hanoi Open Pool Championship
Hanoi Indoor Games Gymnasium
Phố Trần Hữu Dực
Cầu Diễn
Nam Từ Liêm
Hà Nội
Vietnam
www.matchroompool.com
-
facebook
-
twitter
-
youtube
-
instagram
-
tiktok
www.nineball.prpbilliards.com
-
matches/live scoring
-
brackets
www.youtube.com
-
table 1
-
table 2
Tuesday - Saturday 10 - 15 October 2023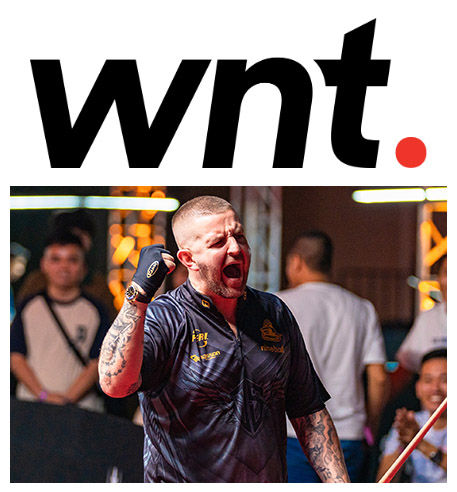 Click the image to view the full size poster - use "back" to return here.
TEAM EUROPE'S MOSCONI CUP HOPEFULS BOW OUT AS JAYSON SHAW CLOSES IN
Jayson Shaw booked his place in the last 16 of the Hanoi Open Pool Championship – live exclusively in Asia on Vietcontent – to boost his hopes of Mosconi Cup automatic qualification.
The Scottish shooter defeated the Philippines' World Cup of Pool champion Johann Chua 10-6 to reach the last 16, and is the highest-standing current European in contention for the Mosconi Cup.
Eagle Eye will can confirm his place with either a semi-finals or finals appearance, with Albin Ouschan, Max Lechner and Sanjin Pehlivanovic all still in contention – though dependent on results.
Mario He, Aleksa Pecelj and Moritz Neuhausen all suffered huge blows in their hopes of qualifying with defeats on Friday. He, who has been putting his name in contention over the past few seasons, looked distraught after defeat to Italy's Francesco Candela. Connecticut Open winner Moritz Neuhausen, enjoying his best career calendar year to date after reaching the World Cup of Pool final with Joshua Filler for Germany, was beaten by another Mosconi Cup hopeful in America's Shane Wolford.
The draw was tough to Pecelj, matching him with best friend Pehlivanovic. In a tense affair, it was the Bosnian who prevailed, seemingly dashing the Mosconi dreams of his touring partner. All three will be hoping they'd caught the eye of Team Europe captain Ralph Eckert, who has been in attendance of all three of the last Matchroom majors, in hopes of securing a Wildcard Captain's pick.
The Philippines entered the last 64 with 17 players flying the flag for the Pinoys, but only three were able to survive to the last 16. Young sensation Kyle Amoroto – who achieved a career-highlight win over Shane Van Boening on Thursday, Lee Van Corteza and Peri Open finalist Michael Feliciano will all be hoping of taking the title back home across the South China Sea.
Friday's action was wrapped up with a blockbuster between two former world champions, with Van Boening taking on Albin Ouschan. The American held a 7-2 lead and looked in control of the race to 10, before Ouschan was able to mount a comeback with eight of the next nine racks. SVB was at the table and looking to run out to make it hill-hill, but scratching on the seven ball allowed the Austrian to advance to the final stages.
LAST 16 FIXTURES
11:00am
TV Table – Fedor Gorst (USA) vs Ko Pin Yi (TPE)
T1 – Francisco Sanchez Ruiz (ESP) vs Sanjin Pehlivanovic (BIH)
T2 – Michael Feliciano (PHI) vs Ahmad Taufiq (BRU)
12:00pm
TV – Ko Ping Chung (TPE) vs Max Lechner (AUT)
T1 – Aloysius Yapp (SIN) vs Kyle Amoroto (PHI)
T2 – Jayson Shaw (GBR) vs Jan Van Lierop (NED)
1:00pm
T1 – Albin Ouschan (AUT) vs Alexander Kazakis (GRE)
T2 – David Alcaide (ESP) vs Lee Vann Corteza (PHI)
The full draw and knockout bracket is available
here
.

Share this article on FaceBook
"Read More..." for the details.

2023 Hanoi Open Pool Championship | Table One

2023 Hanoi Open Pool Championship | Table Two
DATES, SESSION TIMES, VENUE
The Hanoi Open Pool Championship takes place at the Hanoi Indoor Games Gymnasium, Hanoi, Vietnam.
All times are local (EDT)
11-13th October – from 11 am daily
14th October – 11 am – 3:30 pm / 5:30 pm – 10:00 pm
15th October – 11 am – 3:30 pm / 5:30 pm – 8:00 pm
BRACKET, MATCH SCHEDULE AND LIVE SCORES
Check out the Bracket, Match Schedule, and Live Scoring here
WHERE TO WATCH
Fans in territories not listed below can watch Days 1-4 (October 10-13th) on the Matchroom Pool and Multi Sport YouTube channels as well as on Matchroom.Live
Days 2-4 (11-13th October)
• VCT – Vietnam and Rest of Asia - except for China, Indonesia, Chinese Taipei & Hong Kong
• Matchroom.Live – Rest of the World
• Matchroom Pool and Multi Sport YouTube – Rest of the World
Days 5-6 only (14-15th October) – Last 16 to Winner on the below broadcasters
14th October – 11 am – 3:30 pm / 5:30 pm – 10:00 pm
15th October – 11 am – 3:30 pm / 5:30 pm – 8:00 pm
• Sky Sports Arena – United Kingdom and Ireland
• Dazn - United States & Brazil
• Viaplay - Netherlands, Poland, Iceland, Sweden, Denmark, Norway, Finland, Lithuania, Latvia & Estonia
• Nova - Czechia & Slovakia
• Sportscast - Chinese Taipei
• TVRI - Indonesia
• Vietcontent - Vietnam and the rest of Asia
• Matchroom.Live for the rest of the world.
TICKETS
Limited tickets are still available for the Hanoi Open Pool Championship. Secure yours now here.
For help with any event issues or queries, please contact us through @MatchroomPool social media channels, or email pool@matchroom.com.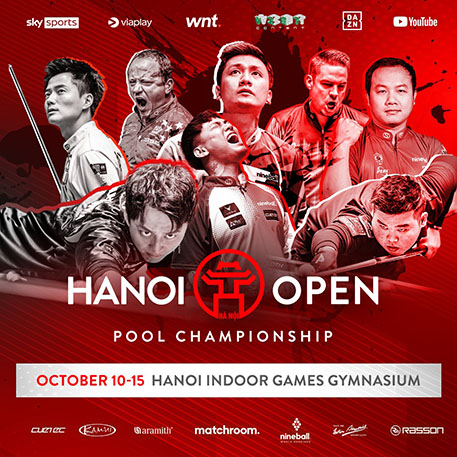 Click the image to view the full size poster - use "back" to return here.
Enjoy the article? Now try this...



View Pro9's front page!

Chat about this article in our forums.

Visit The Pro Shop to see new cues and gadgets.

Check out the Pro9.co.uk calendar for details of more events.