Predator 2021 WPA World Junior 9-Ball Championship
Sportpark Klagenfurt
Südring 207
A-9020
Klagenfurt
Austria
www.predatorcues.com
www.sportpark-klagenfurt.at
Wednesday-Sunday 6-10 October 2021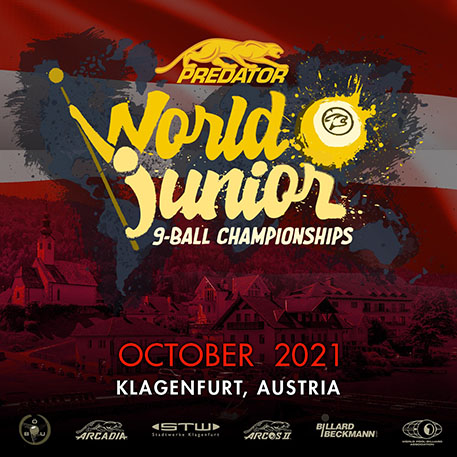 Click the image to view the full size poster - use "back" to return here.
Predator 2021 WPA World Junior 9-Ball Championship moves to Austria
Reporter: Angela Galane | Events & Sponsorships Coordinator - Predator Group
The Predator 2021 WPA World Junior 9-Ball Championship is being relocated from Las Vegas to the Sportpark in Klagenfurt, Austria. Their event will be held in conjunction with the Predator Austria Open which will take place October 6-10, 2021, with juniors able to play alongside top professional players.
With travel restrictions to the United-States being a constraint for a number of foreign junior participants, it made it difficult for families to organize travel in early September and therefore impacted the decision to move the event.
"The current reality is that the United States has Covid-related travel restrictions that make it impossible for this event to take place on US soil," said BCA Communications Manager Shane Tyree. "We wish all competitors good luck in Austria as they compete in the 2021 Predator WPA World Junior 9-Ball Championship."
Share this article on FaceBook
-
"Read More..." for the details.

"Predator is very excited to bring this event back after its one-year hiatus due to the pandemic and is dedicated to making this event take place for all of our young talented pool players," said CEO of Predator Group Karim Belhaj. "Juniors are the future of the sport and we want to inspire more young players to play our beloved game."
"The WPA is excited to partner with Predator to bring the World Junior 9-Ball Championship to the world stage after missing out in 2020 through the global problems of Covid-19," said WPA President Ian Anderson. "This event is often regarded as our most important world championship as it is all about the next generation of players and the future of our sport."
The field will consist of a max of 96 players in three categories: boys under 19, boys under 17, and girls under 19. Junior players will be competing next to professional players during the Austria Open under the same professional conditions. The juniors will take the stage with the finals being livestreamed on Kozoom in the same arena as the Predator Austria Open.
The event will be played on the new Predator Pro Table, Arcadia Reserve cloth and using Predator's Arcos II Reserve balls which are the official table, cloth and balls of the 2021 Predator WPA Junior World 9-Ball Championship. For more information on the official equipment, visit www.predatorcues.com.
Predator Group's mission is to inspire billiard fans by providing innovative experiences and products that deliver high-performance, with unsurpassed class and style. Predator, Poison and Uni-Loc are Predator Group brands that focus on performance pool cues, billiard balls, cloth, and accessories. For more information regarding Predator Group's products, visit predatorcues.com, poisoncues.com and uni-loc.com.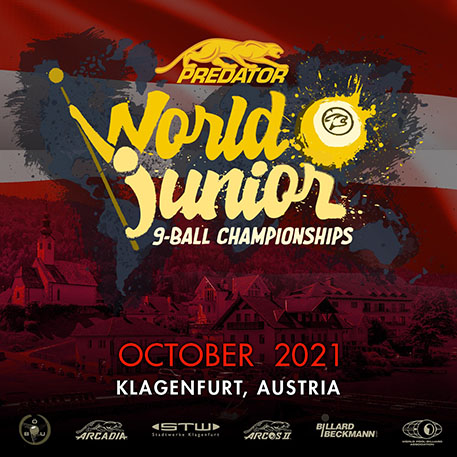 Click the image to view the full size poster - use "back" to return here.
Enjoy the article? Now try this...



View Pro9's front page!

Chat about this article in our forums.

Visit The Pro Shop to see new cues and gadgets.

Check out the Pro9.co.uk calendar for details of more events.